Wed, 28 February 2018
Lock N Load with Bill Frady Ep 1310 Hr 3 Mixdown 1
Joined again by Lincoln Osiris of new sponsor Pipe Hitters Union.
Pipe Hitters Union
No better friend, no worse enemy.
Pipe Hitters Union (PHU) was founded in 2004 by a small group of special operations combat veterans that shared a common belief in the unity of cause, the willingness to face extreme obstacles head on and the absolute refusal to backdown in the face of adversity. Since then, the message has spread to like minded individuals from all professions and walks of life. Whether military, law enforcement or civilian, Pipe Hitters throughout the world are pushing their limits daily and making their mark.
What began as a brotherhood born from conflict has evolved into a commitment to continue to live by the values we hold dear, regardless of what stands in our way. The battlefield may change but our resolve to push forward remains the same. Our brand is a mark of distinction and a call for others to join us.
PHU was born in the spirit of moving together in one direction through the storms of life, no matter how they present themselves. This is a call to embrace turmoil. This a call to thrive in adversity. This is a call to join the Union.
Pipe Hitters Union, LLC is a disabled combat veteran owned and operated business headquartered in Austin, TX.
---
Wed, 28 February 2018
Lock N Load with Bill Frady Ep 1310 Hr 2 Mixdown 1
WaPo: Armed teachers will execute children for being black, Parkland Kids: The Return of the Grieving Activist, Parkland Shooting: Questions the Left Can't Answer, Wait–Did Trump Just Give Pro-Gun Control Democrats Everything They Wanted?
---
Wed, 28 February 2018
Lock N Load with Bill Frady Ep 1310 Hr 1 Mixdown 1
Roger holds a Master of Public Administration Degree from Cleveland State University and holds several degrees from The Ohio State University. He earned a Master of Arts degree in Philosophy, a Bachelor of Arts degree in English and a Bachelor of Science in Education degree in Secondary English Education.
Roger has practiced law for the federal Government in Washington D.C., for the State Government in Arizona, and has been in private practice in Ohio, New York, and Arizona. Roger is a co-founder of Arbalest Group LLC, creator of the Arbalest Quarrel weblog, dedicated to strengthening the Second Amendment, preserving our Bill of Rights, and maintaining a free Republic.
Stephen L. D'Andrilli Both Roger and his business partner, Stephen L. D'Andrilli, a decorated veteran NYPD Officer and Adjunct Professor/Lecturer of Police Science at John Jay College of Criminal Justice, regularly co-author comprehensive, critical analyses of State and federal firearms laws; critical, extraordinarily detailed, no holds barred analyses of Federal Court decisions impacting the Second Amendment; detailed analyses of pending State and Federal Bills; and detailed analyses of Federal Rules and Regulations, impacting Americans' Constitutional rights and liberties generally.
They also co- author commentary, with a unique perspective on, and perceptive insight into, news and politics.
Roger and Stephen are regular radio talk show guests on Lock N Load with Bill Frady.
---
Tue, 27 February 2018
Lock N Load with Bill Frady Ep 1309 Hr 2 Mixdown 1
16 Stupidest Comments About the Parkland Shooting Massacre (So Far), We had better stand together, Why the Left Opposes Arming Teachers, Stalking an Active Shooter.
---
Tue, 27 February 2018
Lock N Load with Bill Frady Ep 1309 Hr 3 Mixdown 1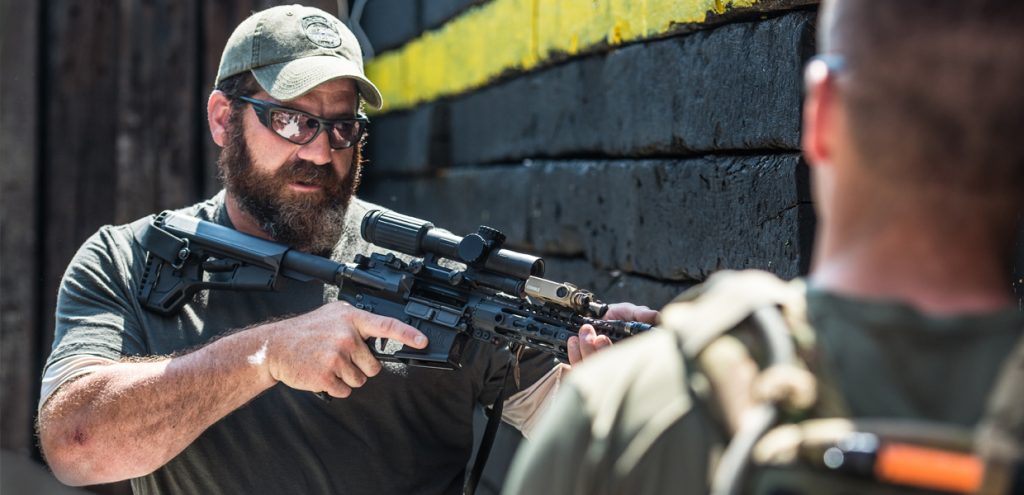 STEVE "YETI" FISHER – Owner & Lead Instructor
Steve Fisher has been the owner/lead instructor for Sentinel Concepts since 2014. He also is a contract instructor for numerous ranges in Michigan and has been a staff instructor for EAG Tactical for the past 5 years. Steve currently serves as a reserve officer with an agency in the southern United States as a firearms trainer for SWAT and patrol divisions.
Steve's career as a trainer started in the 90's, first at NTFT and then later as the owner/ lead trainer of MDFI, both Michigan-based companies, and served as one of the primary Instructors for Magpul Dynamics. He was responsible for the development of new programs and tactics for several local police departments and new training curriculum's based on low light, home defense and the use of the carbine, handgun, and shotgun in various roles.
Steve has been featured in SWAT Magazine, Recoil Magazine, Breach-Bang-Clear, and has written for both SWAT Magazine and Surefire Combat Tactics. He is a product designer for Sneaky Bags and Tuff Products as well as provides product development insight for companies like NightHawk Customs, MidWest Industries, and Robar to name a few.
Over the years Steve has participated in numerous training programs from notable instructors in the industry as well as many local level schools and stays active on both sides of the training industry. He is also an avid hunter and has a history in the outdoor/hunting television community as both a hunter and cameraman.
---
Tue, 27 February 2018
Lock N Load with Bill Frady Ep 1309 Hr 1 Mixdown 1
Patriot Rob Morse, design engineer/analyst by day. Civil rights advocate by night.
"I respect ideas that have stood the test of time and circumstance. I respect those slow-facts." says Rob
Rob writes the SlowFacts blog and contributes to the Politics and Guns Podcast as well as AmmoLand Shooting Sports news. He also hosts the Self Defense Gun Stories Podcast.
---
Mon, 26 February 2018
Lock N Load with Bill Frady Ep 1308 Hr 3 Mixdown 1
The Child Soldiers of the Gun-Control War, The Mass Shootings Aren't About Guns, They're About Our Culture, The neurological dysfunction of the left, The AR-15, a Tool For Good. Nine Powerful Real Life Examples to Counter the Left's Empty Rhetoric, The struggle for victimhood.
---
Mon, 26 February 2018
Lock N Load with Bill Frady Ep 1308 Hr 2 Mixdown 1
Counterattack Hard Against Liberal Attacks on Our Gun Rights and Other Civil Liberties, It is tough being me, CNN's Shameful Town Hall Is a Clarifying Moment on Guns, Friendly Reminder: School Shootings Are Still Rare. More Kids Are Killed Walking To School.
---
Mon, 26 February 2018
Lock N Load with Bill Frady Ep 1308 Hr 1 Mixdown 1
---
Fri, 23 February 2018
Lock N Load with Bill Frady Ep 1307 Hr 3 Mixdown 1
Finally forced to pay the piper and seek treatment for pneumonia, it simply wont go away. Back on Monday.
---